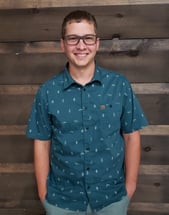 We want to congratulate our graduate of the month for August…Mr. Robert Gilliam!
Robert graduated from Asheville Buncombe Technical Community College in 2011 with an Associate degree in Industrial Systems Technology. He then started working at Baxter Healthcare in August 2011 as a two-year Maintenance apprentice where he worked his way up to a Maintenance Technician in 2016.
"The iBL experience gave me a great understanding of Reliability. Before I became an iBL I had no idea what an RCA, FMEA, criticality, or hierarchy even was. Now I am able to lead a team and teach people about the tools and the processes. I have also been able to grow in my career because of the iBL program. I have transitioned to a Reliability Engineering job, that would not have been possible for me without this program."
Congratulations, "Bobby Lee"!!!