June 4th through the 6th we welcomed iBL students from Weyerhaeuser and Mondelez to Charleston for our summer graduation ceremony aboard the USS Yorktown. We were also fortunate enough to have Kim Kallstrom attend the event to present the University of Tennessee Reliability and Maintainability Center (RMC) certificates to the graduates. The attendees included plant managers, divisional engineers, and maintenance managers who had completed their full iBL project. The event kicked off with students presenting the results of their reliability improvement projects to the group. These projects resulted in substantial savings ranging anywhere from $250K to over $750K, and some presenters have already been invited to present there impressive projects at the 2015 MARCON Conference. After recognizing the successes of the group, the event shifted gears to look towards the future.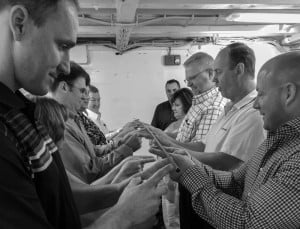 The students attended workshops, covering specific reliability topics they requested, and a strategic planning and coaching session. These sessions were offered to prepare the students to become teachers and mentors for others, as they begin to implement in the next area of their facility. They wrapped up the day by starting the charter for their next implementation.
Students and their spouses returned on day two for the graduation ceremony with the University of Tennessee RMC. They also received special recognition awards from Eruditio. The day concluded with a series of fun and enlightening communication exercises where with spouses participating and everyone learning some new tricks to take away.
Congratulations to this class of empowered and enlightened reliability champions!